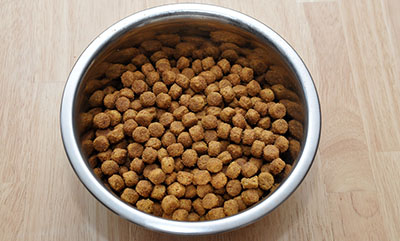 Dear Lynn,
I frequently travel by air, domestically and internationally, with my guide dog. I find it difficult to manage my dog's food during my trips. Do you have any advice?
-Food for Thought
Dear Food for Thought,
I would recommend pre-packaging your dog's food in small Ziploc bags. Each bag should contain food for one meal. Take enough filled bags to cover your journey there and back, as well as for any day trips you may take at your destination.
Be sure to pack a few more bags of dog food than you require for your entire trip in case your flight is delayed or you change your plans. In addition, do not forget to place a few bags of dog food into your carry-on bag in case your flight is delayed after you have checked your baggage. You may not have access to your checked baggage. Or, there is always a possibility that your baggage is misplaced by the airline. This emergency dog food supply will allow you time to find a store that sells dog food.
Remember to carry the dog food label and ingredients list in your carry-on bag. Some countries require this information due to food restrictions. Don't forget that some countries restrict the amount of liquid that you can bring across the security check point. You can purchase bottled water on the other side of security or carry an empty water bottle that can be filled in a bathroom or by a flight attendant on request. 
If you would like to learn additional tips for independent travel, please contact your local CNIB Foundation office. Bon voyage!
-Lynn Jensen, Independent Living Specialist, Vision Loss Rehabilitation Canada