Several organizations and businesses in Montréal's Sainte-Marie neighbourhood are working with the CNIB Foundation to help make the city more accessible.   
Launched in the fall of 2019, the Accessible Neighbourhood project is designed to transform Montreal into a beacon of accessibility and inclusion, where everyone can live, work and play without barriers. 
"CNIB's goal is to create a better Canada – a barrier-free Canada – where everyone can fully participate in the world around them," says David Demers, Executive Director, CNIB Foundation Quebec. "This initiative will provide an opportunity for a wider conversation about accessibility and inclusion."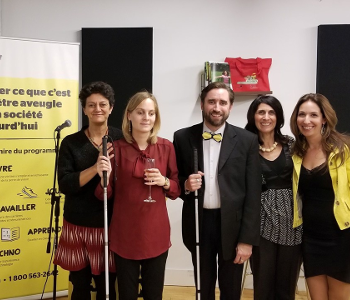 The project encourages businesses, organizations and public institutions in the neighbourhood to become models and pioneers of accessibility. CNIB staff and volunteers canvassed more than 100 businesses in the Sainte-Marie neighbourhood encouraging people to become champions of change for Canadians who are blind or partially sighted. The Centre sportif Jean-Claude Malépart, Théâtre l'Espace libre, the Frontenac library, Échappe-toi, the STM and Pierre-Elliot Trudeau International Airport all jumped at the opportunity to participate in the project. 
As part of the project, CNIB offered a variety of free community-based workshops to provide participants with the necessary training and tools to make their businesses accessible. Attendees learned how to properly interact with a customer or employee with sight loss, how to make their documents and websites more accessible, and how technology can level the playing field for people who are blind or partially sighted.
CNIB has programmed and installed small battery-powered beacons throughout the City. The beacons work in tandem with BlindSquare, a smartphone app, to provide navigational information about the layout of the space (e.g. the washrooms are located at three o'clock). The beacon then silently 'communicates' with the app through Bluetooth signals. The Centre de développement communautaire du Centre-Sud (CDC) and Café Nonnini were among the first buildings in Montréal to install BlindSquare beacons. 
The awareness-raising week wrapped up with an evening reception. Government officials, employers, businesses and organizations all came together to find out how they can open their doors to people who are blind or partially sighted. Attendees got the chance to discover and test different types of accessibility solutions presented throughout the awareness-raising week, including tactile wayfinding tiles, Key2Access, BlindSquare beacons, and more.