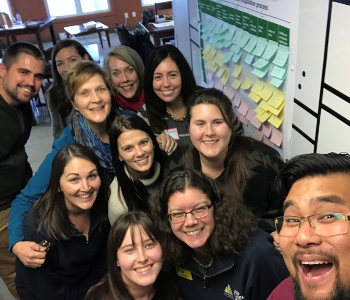 CNIB Lake Joe is hiring seasonal staff for 2020. If you have a passion for enriching lives, making memories and building independence, applying now to join our team on the shores of beautiful Lake Joseph in Muskoka, and helping change what it is to be blind! With over 19 roles available, you will:
Learn, grow, succeed: personally, and professionally
Develop valuable job experience; enhance your resume
Experience excellent training in a FUN, supportive work environment
Positions are filling fast, but there are a few roles where we're still looking for the right fit. Could this be you…or someone you know? 
Getting there is half the fun! Transport guests to/from camp and to offsite attractions. Must be at least 21, have a current class B, C, E or F driver's licence, or be willing to attain (training provided) and a clear driver's abstract.
Provide comfort and care to guests as the lead of our health and wellness team. Must have a current nursing designation (Registered Nurse preferred).
Keep CNIB Lake Joe safe and looking its best inside and out.
The deadline for applications is March 31. Applying is easy! Visit cnib.ca/careers, email campjobs@cnib.ca or drop by CNIB Lake Joe, 4 Joe Finley Way, MacTier, ON, Monday – Friday, 8:30 a.m. – 4:30 p.m.