Nearly six months after the COVID-19 pandemic shut down Rowing Canada's training centre in Victoria, B.C., I am finally back and training with the team!
It's such a great feeling to be back on the water – the sound of the catch and the graceful surge of the boat – but there are many changes to how things are run.
We are currently training in smaller boats and that means I am rowing a pair with my teammate Bayleigh Hooper. A pair is much more sensitive to movements than the four and it forces you to focus that much more on all the little details – which is a good way to start the season.
Blister woes! I usually return to rowing in the fall and wear stretchy gloves to help with the transition. With it being late summer, I didn't even think about gloves. As a result, my hands have taken a real beating from the oar handles. There were a couple of days where I couldn't even hold the handle on Alan's harness because my hand was so raw with blisters. My hands are finally starting to toughen up, so it should get easier!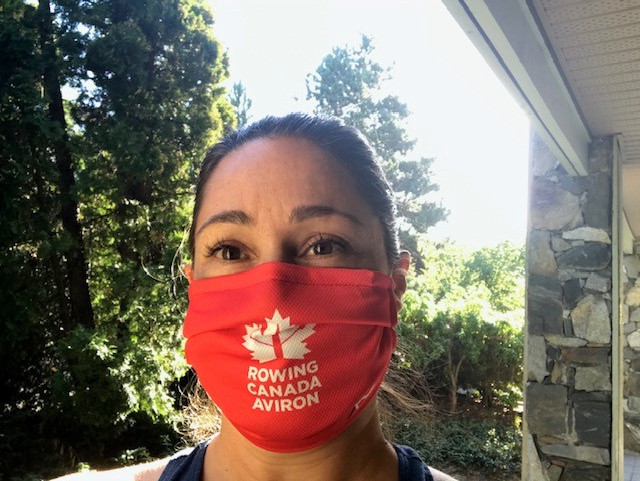 Sanitation protocols have made navigating the club easier for me. We are in designated groups of six athletes and each group has a distinct arrival time, so our paths don't cross. This makes it much easier to navigate without the crowds of athletes coming and going.
We always wear masks except when we are rowing. Even when leaving and entering the dock, your mask must be on. Thankfully, we have some nice Rowing Canada branded masks, which makes the transition a bit better.
After rowing, there is a three-step cleaning process for all the equipment and then we are expected to leave immediately to clear the way for the next group.
Another bonus: transitioning to a fully remote work environment has made it even easier for me to continue my work with CNIB Guide Dogs from British Columbia (I reside in Ontario). I am very grateful to CNIB for their flexibility.
As for our training, things will start ramping up right away. Our first assessment takes place in three weeks. Stay tuned!
Follow Victoria's "Detour to Tokyo" Blog Series: