Donate to CNIB Guide Dogs by September 30th and your gift will be matched up to $50,000!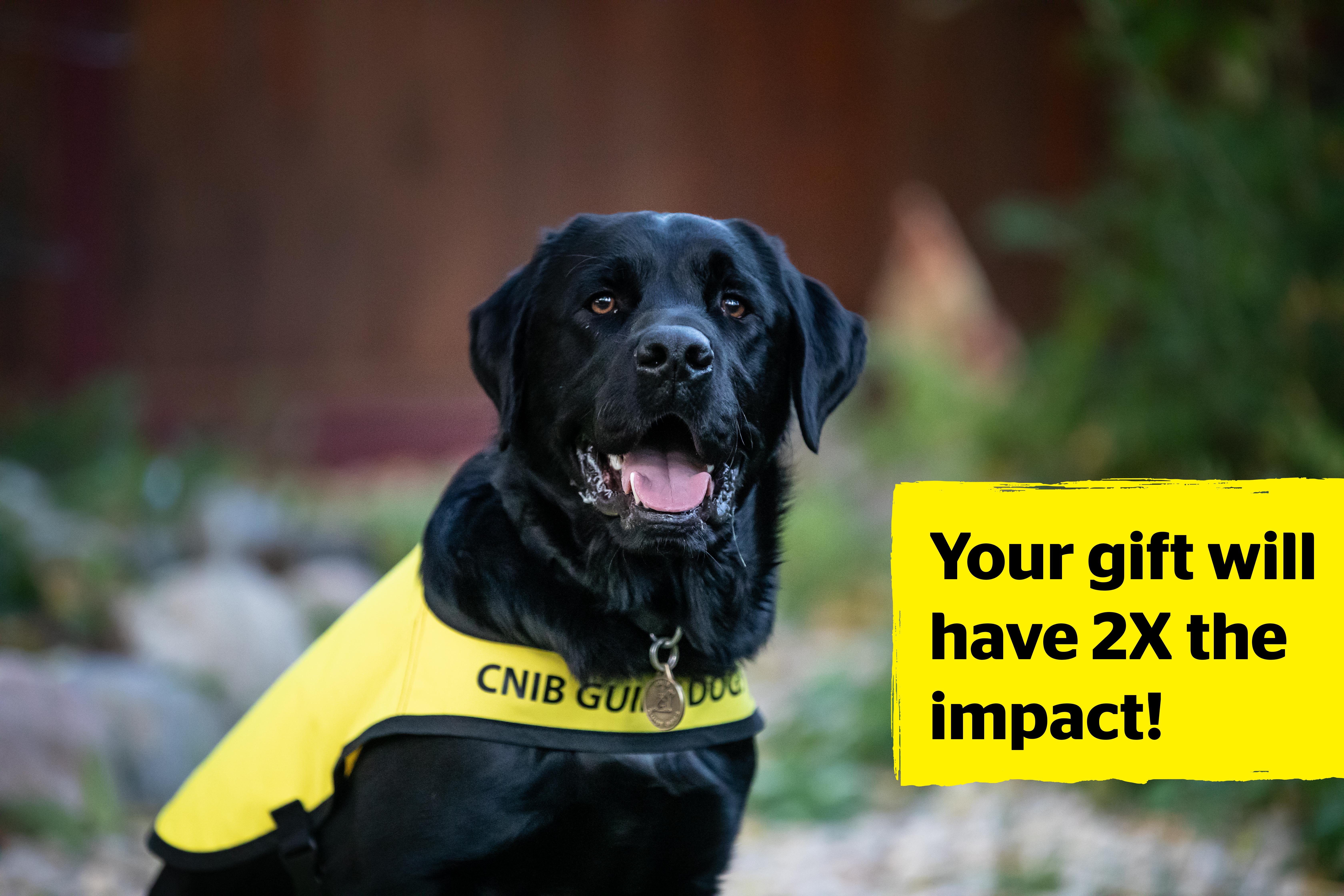 We have some exciting news to share!
For a short time, our generous donors, Ron and Yvonne Kruzeniski, have agreed to match every donation we receive for our guide dog program up to $50,000. Meaning that if you give $100 today, CNIB Guide Dogs will receive $200!
Want to know something really special? Ron isn't just a generous supporter of CNIB Guide Dogs – he's also a guide dog handler and CNIB Board member!
Ron knows from first-hand experience just how impactful having a guide dog can be. He was partnered with his first guide dog in the 1980s, and he's been a strong advocate ever since. "I found that I was able to go more places, walk there faster. Do things with greater safety. I just felt so much more independent," he said.
A few years ago, Ron experienced a devastating loss. His guide dog unexpectedly passed away from a sudden illness. He was further distraught to learn that he would have to wait several months to be partnered with a new guide dog. Many people express that losing a pet can often be like losing a loved one – but for Ron it was so much more than that. Losing his guide dog meant losing his freedom and independence too. "It created a serious interruption in my life," he said. "I don't know what I would have done if I had needed to wait longer."
Since then, Ron has been paired with his CNIB Guide Dog, Alex. Now, with Alex by his side, he's back to living his life to the fullest – and he couldn't be happier.
But many Canadians are still waiting to be paired with a guide dog – and we need your help so they too can benefit from the safety and freedom a guide dog provides. Since the pandemic began, applications for CNIB Guide Dogs have increased by more than 375 per cent.
That's why we need your help. It takes two years of intensive training for these remarkable dogs to be paired with a Canadian with sight loss, and the demand on CNIB Guide Dogs has been astronomical.
This generous matching offer will only last until September 30th – so don't wait! If you donate today, you'll do twice as much good for this incredible program.
Visit cnib.ca/double to have your gift matched up to $50,000!