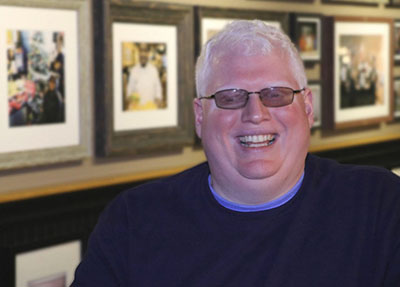 Many daily morning shows just deliver news and information to their listeners and viewers. It's a one-way conversation. "NOW with Dave Brown" isn't like anything else you'll hear or see. Airing weekdays at 9 a.m. Eastern on AMI-audio and AMI-tv, "NOW with Dave Brown" is a two-way discussion between host and audience.
"'NOW with Dave Brown' is a show for everyone," host Dave Brown explains. "We're not just thinking inclusivity through a disability lens, but one where everyone is welcome to start their day with us live on TV or online. Even if you miss us live, we want to be a part of your daily routine as a podcast. We also want that in the feedback that you bring us. Whether that be on Twitter, via phone or e-mail, we want to hear what you think about the show, your thoughts about what we talk about, or what you think we should be thinking about."
A live two-hour news and current events show, "NOW with Dave Brown" promises to be fearless with how news of the day is addressed, arming listeners and viewers with information about what's going on in their community, their city, their province, their country and their world. The morning program will nationalize regional issues and regionalize national issues, covering the big stories in politics, business, entertainment, social media and sports.
Dave Brown has more than 10 years of broadcast experience. Early in his career, he ran a student radio station in Ottawa, interned at CBC Radio 3 in Vancouver, CBC Radio 1 in Ottawa, Entertainment Tonight Canada and Global News Toronto. Dave's first big on-air opportunity came as a traffic reporter with CBC Radio 1 in Ottawa. For more than three years, commuters started their day with Dave in their ears.
Dave joined AMI in 2015 as a bureau reporter in Ottawa. Since then, he has hosted "AMI This Week" and produced stories and documentaries for the network. In 2017, Dave and his team launched "The Pulse" for AMI-audio. The long-form interview show gave Dave a chance to sharpen his interview skills and connect with members of the disability community in Canada and around the world.
What does Dave want listeners and viewers to walk away with after every broadcast?
"We want you to feel informed," Dave says. "We want you to walk away with a different perspective on big issues. We want you to feel included. We want your voice to be heard."
"NOW with Dave Brown" airs weekdays at 9 a.m. Eastern on AMI-audio and AMI-tv. Listen to "NOW with Dave Brown" and other AMI-audio programs as podcasts.
Find out where you can access AMI-audio and AMI-tv in your area. Learn more about Accessible Media Inc.