Lion Bruce Roulston from Hagersville, Ontario, was a farmer for practically his entire life until he lost his vision to Retinitis Pigmentosa.
"I was 53 when I got off the farm because it was too dangerous for me to work. I realized I needed support and that's when CNIB became a big part of my life," says Bruce. 
With the help of CNIB, Bruce is learning how to adjust to living with sight loss. He is also looking forward to working with a certified specialist at Vision Loss Rehabilitation Ontario to strengthen his white cane skills.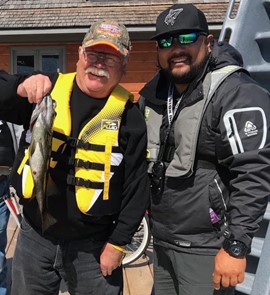 "I farmed all my life, so meeting new people at CNIB Lake Joe for me was a bit scary but everyone accepted me, the staff and the campers. I even made friends on the bus during the trip up there. It was all such a great first-time experience," explains Bruce.
Upon his first steps at CNIB Lake Joe, Bruce felt included and supported. Many other campers at CNIB Lake Joe had RP and it really gave him a different perspective on the fact that he was losing his sight because everyone around him had varying levels of sight. 
"It always feels really good to be at CNIB Lake Joe. We're all one big family, and I'd like to keep coming back as long as I can," says Bruce. "I want to help. It gives me the satisfaction, happiness and pride that I've helped others who are blind or partially sighted like myself. I want to support just as others have supported me along the way."
Bruce is also a very proud member of the Lions Club. Members of the Lions Club are known as the 'Knights of the Blind' for their service to people with sight loss. For being such a selfless Lion, Bruce was honoured with the prestigious CNIB Colonel Baker Award that recognizes an individual's exceptional community involvement.
"Bruce is always all over town. He has a can-do attitude and is one of our best Lions," says John and Joyce Harvey, Past District Governors, District A2, who nominated Bruce for the award. "He's the one that delivers the flyers, collects the canvas for items, a great listener and thinker, very humble and good-natured. He's very proud to be a Lion, always helping where he can."
"When I had to get off the farm, my life completely flipped, from working every day and not getting out that much to now working in the community and being involved with CNIB Lake Joe," says Bruce. "I now feel like I have something to work towards for the rest of my life. It's very meaningful and fulfilling for me."
If you, like Bruce, would like to learn more about how to get involved and help support CNIB Lake Joe, please contact Sherri Helsdingen at Sherri.Helsdingen@cnib.ca or call 705-241-2907.