Ryan Hooey received his very first guide dog in mid-November: a handsome yellow lab named "Joe" in honour of CNIB Lake Joe.
"I wanted to let you guys know I already loved Lake Joe, but now it has such a tremendous place in my heart," Ryan wrote in an email to the Lake Joe team. "I cannot wait to roll up to Lake Joe and introduce him. He will surely love you all."
Ryan started to lose his sight to Diabetic Retinopathy seven years ago, so his experiences at CNIB Lake Joe are relatively recent. As a CNIB Program Lead for Career Support in Ontario, Ryan has made many trips to CNIB Lake Joe; enjoying every minute on the grounds and in the water.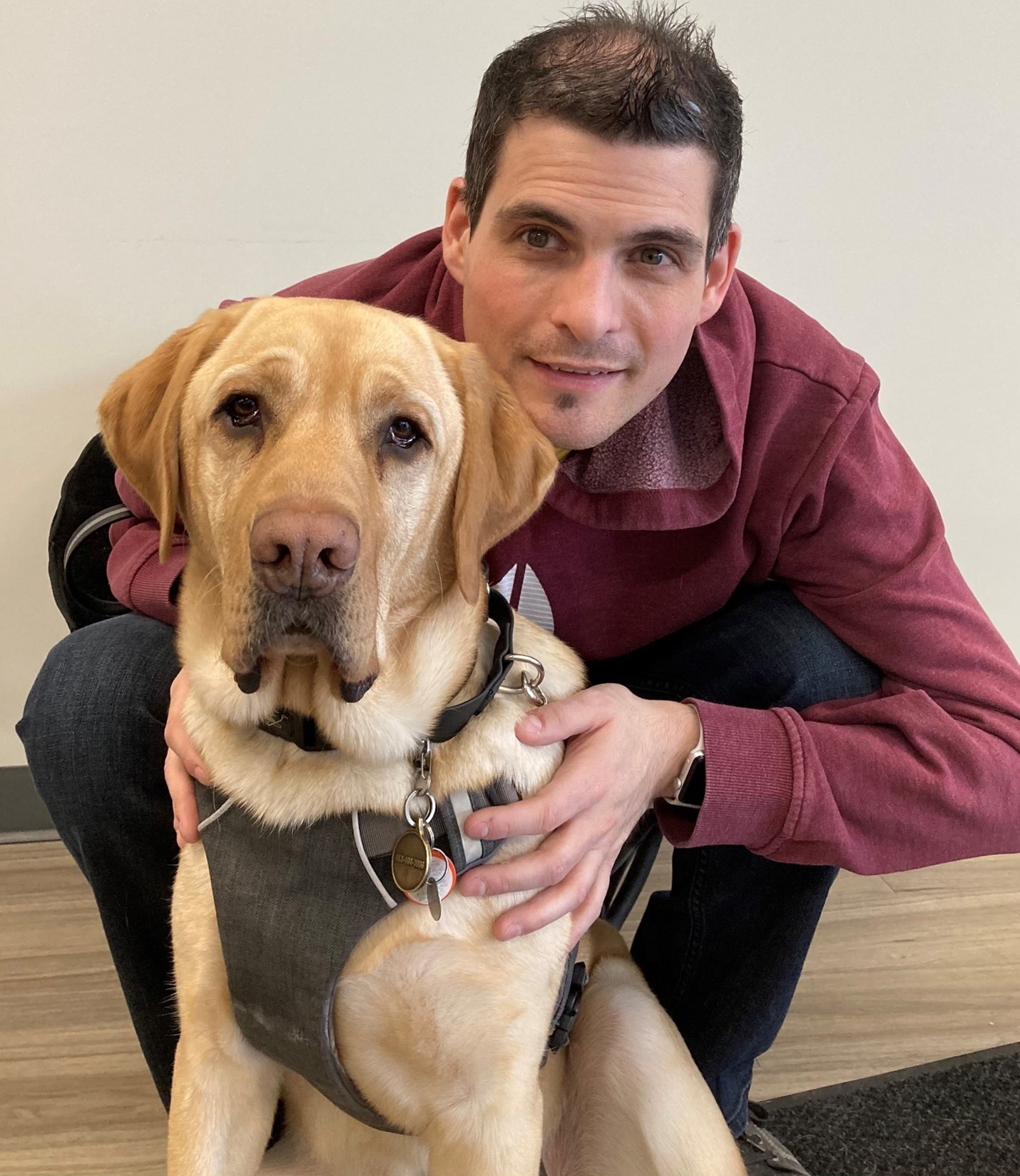 "Joe is the dog version of me," quips Ryan. "Joe says 'woof woof' which I think means, when do I get to swim in the lake and meet all the Lake Joe staff?'"
Joe originally came to CNIB Guide Dogs from Australia with three of his littermates. All three were trained in Carleton Place and have been matched in guide-dog handler teams.
The entire Lake Joe team is excited to meet Joe and all the other guide dog handler teams and introduce them to Willow – our resident CNIB Ambassador Dog.
"Guide dogs are VIP guests," says Monique Pilkington, Executive Director, CNIB Lake Joe. "Many of our campers experience all aspects of CNIB Lake Joe programs, travelling the site safely and independently with their guide dogs. We can't wait to upgrade and relocate Dudley's Den, our existing guide dog zone, with a new, centrally located Guide Dog Off-Leash Area."
Still in the concept stage, CNIB Lake Joe is working hard to raise funds to provide working dogs with the 3R's: relief, rest, and run. If you or someone you know would like to contribute to this project, please contact Tara Oliphant, Manager, Philanthropy at Tara.Oliphant@cnib.ca or call 416-319-5493. 
For more information about CNIB Guide Dogs, visit cnibguidedogs.ca.