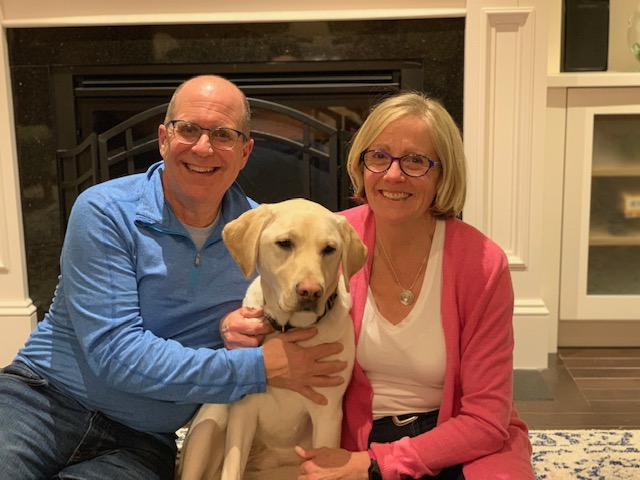 Meeting Daisy in January 2018 was like a dream come true for Patti Sullivan, a volunteer puppy raiser in Bedford, Nova Scotia. Raising a puppy as a guide dog had always been something she dreamed about doing after she retired from teaching.
The eight-week-old yellow Labrador retriever arrived on a cold, dark night to meet Patti and her husband Patrick.
"Daisy walked around our yard like she owned the place," says Patti. "She is a go-getter who is very confident, independent, sweet and lovable."
The Sullivans took Daisy to a movie theatre – her first movie was Mission Impossible on IMAX. Patti recalls the people in front of them being delighted when they realized Daisy was watching the movie.
"Daisy loved going to busy places with lots of people, including malls, stores, classes, sidewalks, coffee shops, restaurants and beaches," says Patti. "We enjoyed taking her everywhere as part of her training and socialization and to enlighten the public about the mission of guide dogs."
Like many volunteer puppy raisers, Patti and Patrick were admittedly very sad when the time came to say goodbye to Daisy as she headed off to advanced training at the CNIB Guide Dogs' Canine Campus
"We knew we were going to miss her tremendously," says Patti. "But we also knew she was ready for this next big step in her training, and she was going to make a huge difference in someone's life as their guide dog and new best friend."
In 2019, Daisy was partnered with a guide dog handler in British Columbia.
"We are so proud of Daisy," says Patti. It's been nice to keep in touch with her handler and hear how they're doing."
Patti has also raised Weasley, a CNIB guide dog who was matched with an Ontario woman in March 2021. The Sullivans are currently waiting for their third future guide dog to arrive.