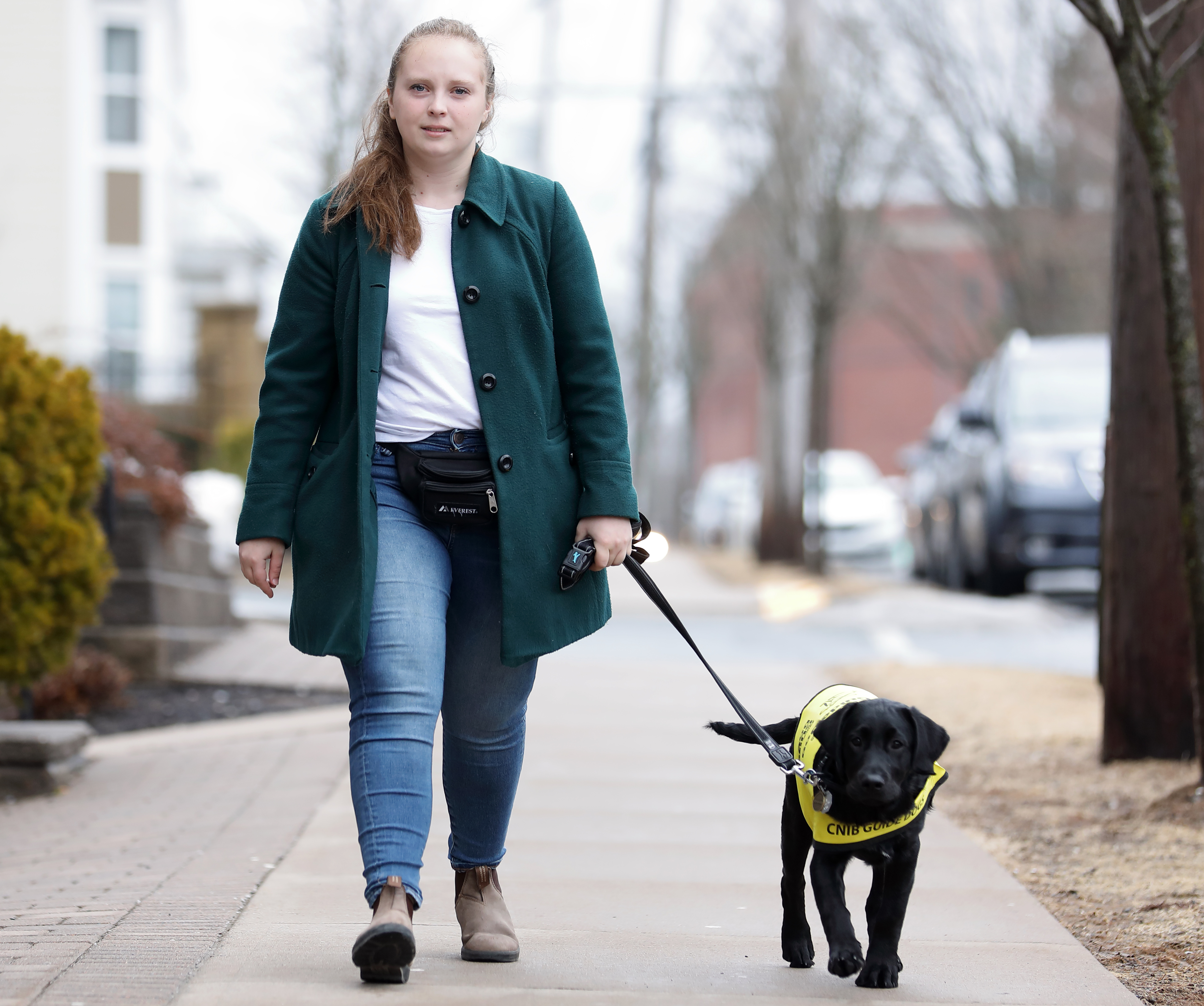 When a 12-pound black Labrador-golden retriever arrived at Maja Packer's Halifax home late one evening in January 2019, she was told, "she's the feisty one". It wasn't long before Maja understood exactly what that meant.
"As a puppy, Lily was wild but so smart – she caught on quickly to mostly everything I asked of her," says Maja. "We definitely had our challenges at first as she was testing her boundaries and learning house manners, but Lily was just a big lover of people and other dogs. She was gentle when she needed to be and the centre of attention when her vest came off."
Maja was a theatre student at Dalhousie University and was seeking a way to do more for her community. She discovered CNIB Guide Dogs on social media and decided to apply to become a volunteer puppy raiser.
Lily accompanied Maja to her university classes and the theatre, and was the star of the show everywhere she went. The pair would walk through all types of weather conditions on their daily commute and once at their destination, the pup would lay under Maja's chair and promptly fall asleep.
"I loved running errands with her and seeing people's faces light up when we'd turn a corner in a store," says Maja. "One of my favorite memories was walking through IKEA and passing a child in tears, who stopped crying as soon as Lily appeared, and a smile emerged. Lily has the ability of making people instantly feel comfortable."
The pup's excitable personality proved useful when being taught new commands or going on outings.
"Everything I asked of her, Lily did it with such excitement – she loves to work as much as she loves to play and cuddle," says Maja. "Oh, and the park – she's a big fan of playdates with her other future CNIB guide puppy friends at the park."
In March 2020, one week before the world shut down from the COVID-19 pandemic, Lily moved onto advanced training at the Canine Campus.
"Tears were shed as she walked away wagging her tail," says Maja. "As heartbreaking as it was to no longer have her constant companionship, at the same time I felt so proud – proud that we made it through the struggles, that my not-so-little pup was ready for the next part of her journey, and that I knew I did everything I could to prepare her. When your puppy arrives you know they are not yours forever, but that doesn't mean you don't love them like they aren't."
Lily is now working as a CNIB Guide Dog in Ottawa and has been partnered with her handler since September 2020.
"It was so exciting when Lily graduated and was matched with her handler," says Maja. "I would have been proud of anything she achieved, but it feels amazing knowing she's fulfilling her purpose while doing something she loves."
Without hesitation, Maja says she would raise another future guide dog.