By: Robert Froom
Everyone has their own reason for volunteering. I volunteer to repay, in some small way, the enormous debt of gratitude I feel for CNIB: for the services it has provided to my brother David and for the life-changing experiences I have shared with him at CNIB Lake Joe.
Since 1991, David and I have spent a week together at Lake Joe. It gives us the opportunity to connect, share experiences, and renew our relationship as brothers. We enjoy spending time together at Lake Joe and look forward to returning each summer. We draw upon our camp happy experiences when we encounter life's inevitable challenges.
Having an older brother who is blind has always had advantages. As children, when we went to the amusement park, we could ride on any ride we wanted for free because my brother was blind, and I was his guide. My brother left for a residential school for the blind when I was quite young, and I only saw him during school holidays. When we grew up, I went to university, and David moved to a long-term care facility. I travelled the world, married, and got busy with three young children and my career.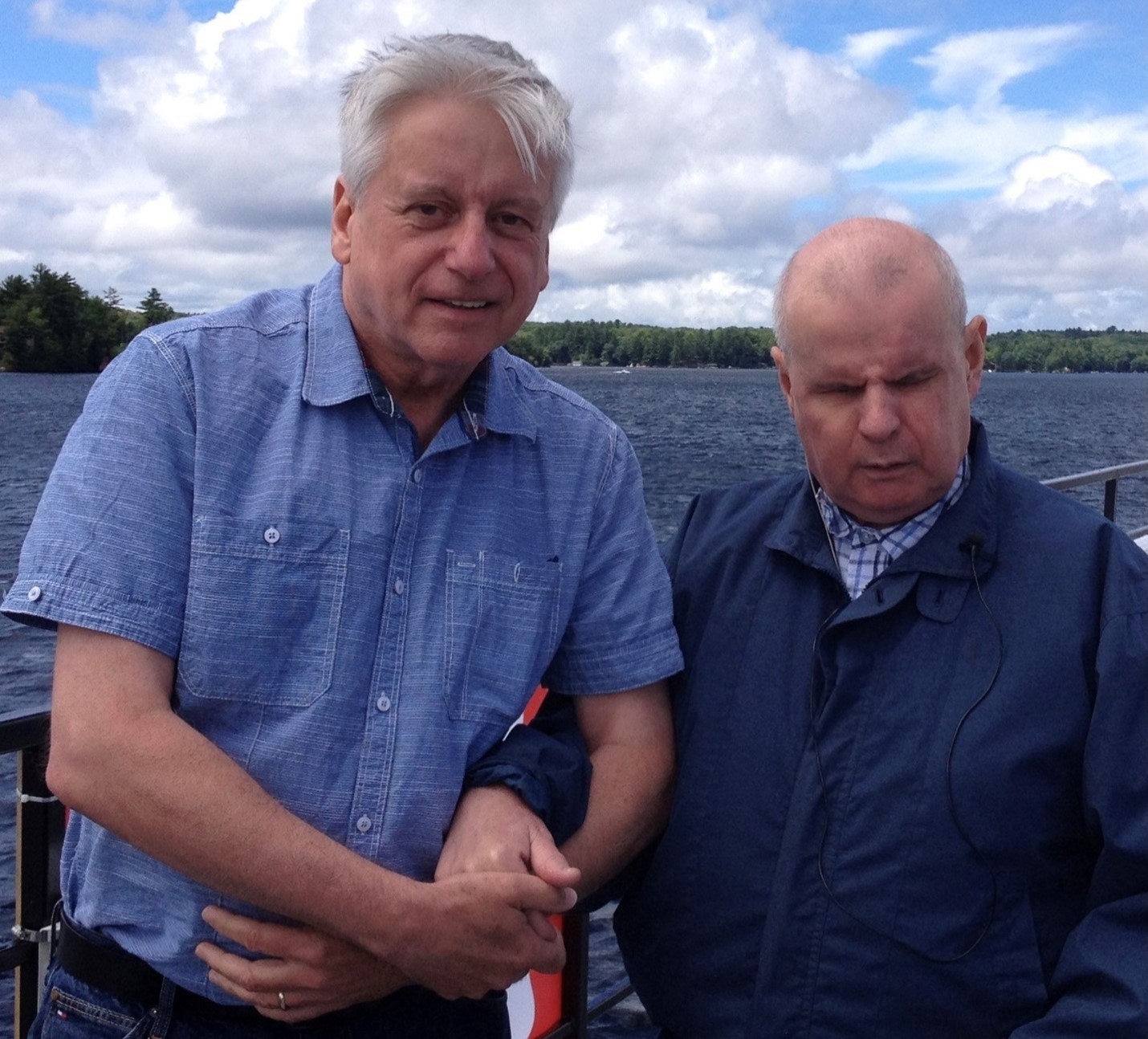 You might think that, as his sibling, I would know everything needed to interact with my brother who is Deafblind. Not so. As David gradually lost his hearing, it became more difficult for me to communicate with him. I felt that we were drifting apart.
When David became a CNIB Deafblind Community Services client, things began to change. Intervenors helped David communicate with those around him and engage with the world.
David's intervenor thought that he would enjoy the camp at Lake Joseph and recommended that a family member attend with him as his guide. For three years in a row, my father registered David for camp but he was always too ill to take him. Finally, he asked me if I could attend camp with David. It had not occurred to me as a possibility, but when I thought about it, I said, "Why not?"
David and I travelled to camp that year with a group of people who are Deafblind and intervenors on a large bus. In that moment, I realized that David and I had had very minimal contact with other people who are Deafblind.
We were new to the experience but were shown the ropes by other campers. When we got to camp, I was nervous. How would we fit in? Am I going to last for a full week? Luckily, my fears were short-lived when we attended our first porch meeting and were introduced to others in our cabin.
I was struck when I saw everyone, facilitated by their intervenors, joining in and participating. Everyone's challenges were different but there was unlimited enthusiasm in the air. These impressions changed my understanding of what it means to be blind.  
On Monday morning, one of the intervenors said to me: "You should learn Two-hand manual." I had never thought of it, even though the Two-hand manual was quickly becoming the primary way to communicate with my brother. 
After breakfast, the intervenor introduced me to Wilfred who would teach me Two-hand manual. Wilfred was great! He quickly taught me the Two-handed manual alphabet and we exchanged a few simple messages. I will never forget Wilfred. He was so kind and generous with a killer sense of humor, despite our shared communication barriers.
On Tuesday, we all went bowling in Parry Sound. There was quite a bit of commotion as we all got ready to start. I thought it would be a good idea to teach David about the game. Communication was difficult and I made assumptions. I handed David a bowling ball and he immediately let it drop to the floor. It got everybody's attention and David felt the vibration and laughed!
The week was built with new friends and challenging activities. I observed the professionalism of the intervenors and camp staff as they worked to help participants engage with the camp experiences. They provided role models for me and I learned a lot.
On Thursday morning, we signed up for the ice cream excursion to Port Carling. Just as we were getting onto the bus, David started to say something to me. He could not hear the commotion and did not understand why I did not answer, so he kept trying to speak. Finally, we were seated, and I signed to David abruptly, "What do you want?" David's answer washed over me like a wave on the incoming tide. He said, "Robert, we are doing activities just like we did when we were kids with Dad," and then he continued, "You know, this Deafblindness is not so bad after all."
It was like a light switch being flipped on. I realized I had underestimated my brother by pitying him for his disability, and that pity was holding us back. But in that moment, pity evaporated and was replaced by a profound feeling of deep respect for my brother as a person. Respect led to hope and in the years that followed, hope brought about action. David was capable of so much more, and he deserved better.
After going to camp, David joined a bowling group and played for many years. He received a cochlear implant in 1998 which restored his ability to hear speech and talk on the telephone.
In 2013, David moved to his own assisted living, one-bedroom apartment. David says his apartment is "a dream come true." He continues to receive support from CNIB Deafblind Community Services, even throughout the pandemic.
In 2015, I was invited to serve on the CNIB Lake Joe Advisory Board. I gladly accepted. It is a privilege to serve on the board because I know with absolute certainty that Lake Joe breaks down barriers, empowers people and changes lives for the better. 
CNIB Lake Joe will continue to be a touchstone for David and me as we face future challenges together.