Dana Hopkins is passionate about literacy. For the past 11 years, she's shared the joy of reading with Canadians who are blind or partially sighted – working as a volunteer narrator with the CNIB Foundation's recording studio.
"I'm a book editor, and everything in my life has to do with reading and learning," says Dana. "Being able to volunteer my time to make sure knowledge, learning, and entertainment is accessible to everyone is very important to me." 
Dana's weekly recording shifts are roughly two hours in length, and she's read a range of more than 30 books!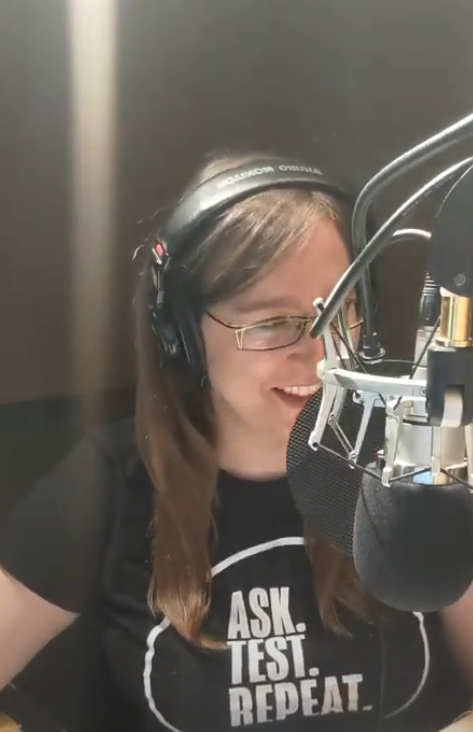 "I've done a little bit of everything! Poetry, children's books, mysteries, thrillers and romance," says Dana. "More recently, I was excited to record Sukaq and the Raven. It's an Inuit children's book, and the company I work for published the book, so it was an interesting experience to record it."
With such a passion for reading, when she heard about the new CNIB, Read to Me!, storytelling program that enables participants to hear live readings – over the phone or online – she jumped at the opportunity to volunteer as a narrator. 
"I had been missing going to the recording studio and thought the CNIB, Read to Me! program would be a wonderful opportunity to give back while also staying connected with CNIB and listeners during this period of isolation," says Dana. 
Dana says she particularly enjoyed the freedom of being able to pick selections to read.
"We were given a list of suggested titles from Project Gutenberg Canada (ebooks on this website are in the Canadian public domain, and are offered at no charge) and could choose anything that appealed to us based on the guidelines," says Dana.  "It was fun to go through the list and select titles that I thought would be interesting for listeners."
She settled on a series of short stories and essays by authors P.G. Wodehouse and A.A. Milne. To prepare for her CNIB, Read to Me! session, she practiced reading her selections out loud multiple times.
"It's a different experience reading live. You have more nerves because if you stumble over a word, you can't pause and go back," says Dana. "And no matter how good you think your vocabulary is, there are always words you've never seen or heard out loud. You have to do a bit of research and prepare."
CNIB, Read to Me! was offered as part of the CNIB Foundation's initial response to COVID-19 to help combat feelings of isolation during the pandemic. Dana says she truly enjoyed her volunteer experience. 
"I know how important reading is to me, and so being able to help facilitate that for others was so meaningful. And it's fun to read out loud!"