Thanks to a $10,000 gift from the TELUS Friendly Future Foundation, the CNIB Foundation Quebec will offer reading workshops for a second year.
Les chouettes découvertes workshops are designed to promote reading to children. A group of five children meet for 90-minute sessions at the CNIB Montreal Community Hub. Parents are also welcomed to participate. The workshops are led by a psychoeducator, a special education teacher and a social worker. Children are encouraged to read or listen to stories before talking about them.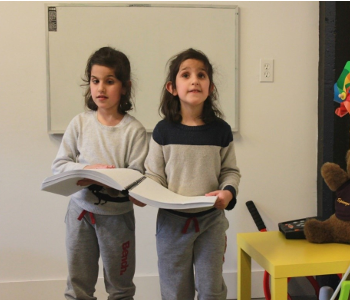 Through its donation, the TELUS Friendly Future Foundation is helping children discover the joy of reading – a gateway to future success. 
"Thanks to this activity, I see my daughters' reading improving. They have learned new words and have improved their ability to socialize." -Sahar Chamas (mother of Aline and Lorine) 
Using the power of technology to advance children's literacy
This year, young participants can also try different assistive technology tools — from audiobooks to variable-speed tape recorders — that help students with reading. The technological components help spark children's interest in reading and offer parents additional tools to make reading a part of their everyday routines.
A special thanks to the TELUS Friendly Future Foundation for supporting these innovative workshops.