Surrounded by friends and family on the beautiful shores of Lake Joseph in Muskoka, it was the perfect way to celebrate CNIB Lake Joe's 60th Anniversary Weekend – in style!
Thanks to your amazing participation and support, CNIB Lake Joe's 60th Anniversary weekend raised a grand total of $370,000 for CNIB Lake Joe's capital redevelopment campaign!
This funding enables us to purchase adaptive sports and independent living skills equipment for a new multi-purpose recreation and learning facility at CNIB Lake Joe! Included in this total, the CNIB Muskoka Dock-to-Dock: Poker Run event and its 50/50 raffle raised over $130,000 (net) to date. 
More than 250 donors, sponsors, participants, and volunteers came together to make the event a great success.
We were thrilled to be joined by celebrity hosts Joan Kelley Walker (returning emcee), Rod Black, and Ben Mulroney!
A huge thank you to the mighty, unstoppable team of Nancy Simonot (Co-Chair), Helen Hunt (Co-Chair), Tracey Burton, Tom Cross, Anthony Domenici, and the Antique and Classic Boat Society-Toronto for organizing another successful annual CNIB Muskoka event!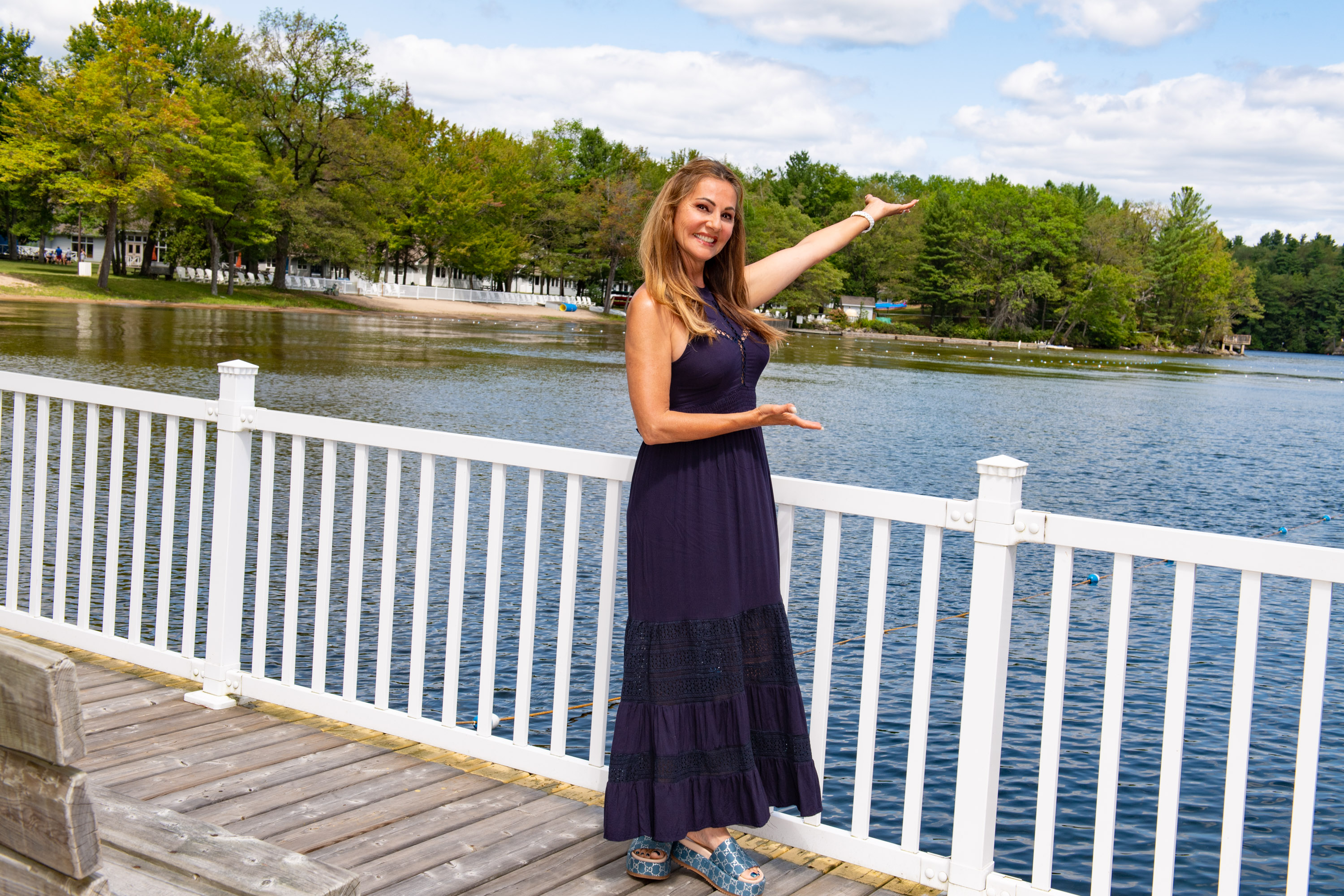 Our CNIB Lake Joe 60th Anniversary "Super Six" Challenge donors each pledged a remarkable $60,000 toward the campaign. Join the "Super Six" and help us reach our goal of $1.6M. We want to extend our heartfelt thanks to the incredible "Super Six" donors who have confirmed so far!
Randall Oliphant Family - $60,000
Joan Kelley Walker - $60,000 (pictured at CNIB Lake Joe)
John and Norma MacDonald - $60,000
Hogarth Family / The Pioneer Group - $60,000
A big thank you to our CNIB Muskoka Dock-to-Dock: Poker Run event sponsors! 
NKS Health, Mantella Corporation, Accessible Media Inc. (AMI), Ellis Packaging Limited, Susan Creasy Financial Inc., Sofina Foundation, Budget Propane Corporation, Cayman Marshall International Realty, Foodland Port Carling, Tom Cross Muskoka Real Estate, Crestwood Inn, Cottage Air, Black Caviar, Mortimer's Marina, Field of Greens Muskoka Market, Mullin's Pet Market, Freshmart Bala, Beveragino, Heretic Spirits, Canadian Tire Corporation, Indian River Trading Company, Expedia Cruises (Oakville), Bait, Tackle & More, Pratt's Lawn Care & Landscapes, Molson Coors, Roll This Way Sushi Making Classes & Catering, The Boathouse Yoga Co., The Hunt Team in Muskoka, and The Lake Joseph Club.
Congratulations to the Dock-to-Dock's Top Three Fundraising Teams:
First Place Team: Simonot's Unsinkable 2 - $12,193
Second Place Team: Domenici's Lake Joe Poker Run for CNIB - $6,047
Third Place Team: CNIB Lake Joe Advisory Board - $4,185
Congratulations to the $12,938 CNIB Lake Joe 50/50 grand prize winner, Randy!
If you couldn't join us in person at the CNIB Muskoka Dock-to-Dock: Poker Run, check out our six-minute CNIB Lake Joe 2021 Dock-to-Dock Event video.
It's never too late to support CNIB Lake Joe. Please give as generously as you can!