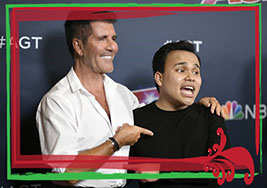 This Christmas is likely to be a lot brighter than the last for Kodi Lee, the 22-year-old who recently won the 14th season of "America's Got Talent" (AGT). After all, he has million-dollar prize under the tree this year.  

After wowing ATG judges at the beginning of the season, there was no question of Kodi Lee's talent. His audition grabbed the attention of the judges and audience alike – receiving both a standing ovation and the first golden buzzer of the season, sending Lee straight to the live shows. 

Lee, a Southern California native, was born with optic nerve hypoplasia and diagnosed with autism at four years old. The 22-year-old continued to captivate audiences throughout the show's run. When it came down to the final three contestants it was no surprise that Lee was among those lucky few standing on the stage.

For his final awe-inspiring performance, Lee performed "You Are the Reason" alongside his own idol, singer Leona Lewis. When it was announced on stage that Kodi had won the $1 million prize, he and his mother celebrated together on stage. For Lee, it has really been a dream come true. 

"America voted for you, Kodi. How do you feel?" host Terry Crews asked.

"I feel so amazing. Unbelievable," Lee said.

Kodi Lee will be continuing to share his talents and passion for performing with the world as he headlines AGT shows in Las Vegas from November 7 to 10 at the Paris Las Vegas Hotel and Casino. 

Click here to watch a video of Kodi's final performance on YouTube.