Main Content
Building a bolder, brighter future 
Welcome to On Target, our quarterly e-newsletter committed to keeping you informed about the progress we're making towards achieving the three strategic ambitions outlined in our strategic plan, "Bold dreams, bright futures".
In this issue, we learn more about the Connecting the Dots conference and how the CNIB Foundation is ensuring electors are aware of their right to accessible voting. We hear from someone who received a smartphone through the Phone it Forward program, and we learn how an app is empowering people to explore the world around them. Plus, learn how you can show your support for guide dog teams in your community!
-CNIB Foundation (Ontario & Quebec)
 
Ambition #1: Boosting participation in the world of work
A job is so much more than just a paycheque: it's a means to self-reliance, a source of identity and pride and a gateway to a brighter future. From the moment children are old enough to dream what they'll be when they grow up, through every stage of their education and careers, we're fuelling their ambition and championing their equal participation in the world of work.
Connecting the Dots with the CNIB Foundation  
For more than 40 years, the CNIB Foundation hosted a variety of successful technology trade shows, conferences and seminars across the country for Canadians who are blind or partially sighted. 
The Braille Conference in Toronto gathered clients, braille transcribers, educators and staff to discuss the latest advances in literacy. In Quebec, TechnoVision+ was the largest trade show in the country dedicated to adapted technology and services for people living with sight loss. Attendees and exhibitors included participants, educators, healthcare professionals, technology vendors and community organizations.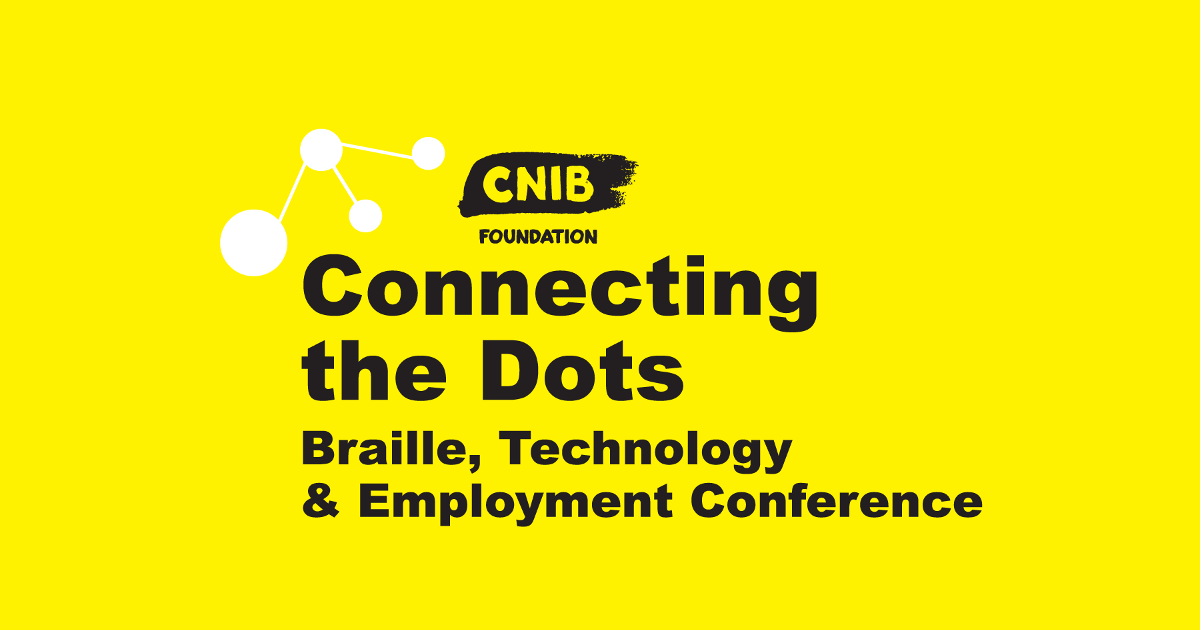 Today, we're thrilled to announce that we've combined these regional events to bring you a bigger, better and more inclusive conference that will help us boost participation in the world of work, unleash the power of technology, and drive achievement and equality. 
Our new nationwide conference, Connecting the Dots, is the largest educational and professional development experience focused on technology, employment and literacy for people with sight loss. 
With more than 40 workshops, this two-day conference will provide opportunities for attendees to: 
learn more about current trends and innovations in the sight loss community at thought-provoking panel discussions;
network with industry experts and connect with other like-minded professionals; 
experience the latest technological advancements in braille and assistive technologies;
and, gain practical experience from industry experts to help with career advancement.
Plus, visit the CNIB Work Zone at Connecting the Dots for an opportunity to:
have a professional headshot taken for your LinkedIn profile;
strengthen your personal brand by connecting with a HR coach to receive feedback on your resume or LinkedIn profile;
gain valuable career advice from influential people in the recruitment industry through networking with HR pros from Deloitte, HSBC, Meridian, Rogers, and more;
perfect your elevator pitch and practice your interviewing skills in our coaching corner;
meet a vibrant community of entrepreneurs from CNIB Venture Zone and purchase their one-of-a-kind goods and services;
and, learn about our upcoming digital e-commerce marketplace for entrepreneurs with sight loss.
Explore new ideas and learn from industry leaders at Connecting the Dots!
Locations:
Toronto, ON   
Date: Tuesday, October 29 and Wednesday, October 30, 2019  
Time: 8:30 a.m. to 4:30 p.m. 
Location: MaRS Discovery District 
 
*Montreal and Vancouver 2020 dates to be announced. For more information or to register, visit cnib.ca/connectingthedots.
In the News
This blind DJ taught himself to produce music. Now he's helping other youth do the same, CBC News Toronto, June 30, 2019
«Il n'y a pas grand-chose qu'on ne peut pas faire», Le Soleil, 5 août 2019
CNIB's Connecting The Dots, Live from Studio 5, August 14, 2019
Éditeurs et universités peinent à fournir des manuels accessibles à temps, Affaires universitaires, 27 août 2019
Benefits and Implications of Beacon Technology, AMI, Kelly and Company, September 12, 2019
Read more articles from the October 2019 issue of On Target:
Making the Future Bright 
On Target is published quarterly. Missed an issue? Catch up here!
Get the latest updates by following us on Facebook and Twitter.