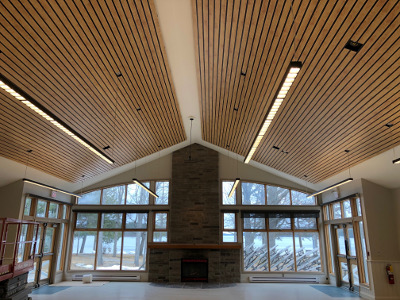 The dining hall and lounge are at the heart of CNIB Lake Joe. Everything that matters happens here: meals, musings, meetings, music, and more. For this reason, we invested in some important upgrades to improve the acoustics and the overall look and feel of this space.
Thanks to a one-year $147,600 grant from the Ontario Trillium Foundation - along with funding from CNIB Lake Joe donors - engineers, electricians, and experts in the construction of acoustic ceilings completed the renovation to address noise levels that regularly rose above the sound of a chain saw! The lounge boasts a beautiful new sound-absorbing wood ceiling while the lowered dining hall ceiling creates a cozier environment and features a wood grain acoustic treatment.
The wooden touches give the space a more contemporary look, and a warmer, welcoming feel. New LED lighting and a fresh coat of paint – including a bright pop of blue on the kitchen wall – really brightens the space too. We can't wait to showcase this space in-person and have everyone gather together to share the magic of camp at CNIB Lake Joe!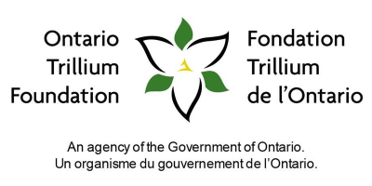 The Ontario Trillium Foundation (OTF) is an agency of the Government of Ontario, and one of Canada's leading granting foundations. OTF awarded $108 million to 629 projects last year to build healthy and vibrant communities in Ontario.