Fran Moreau reminisces about her experience trying the new Climbing Tower for the first time at CNIB Lake Joe.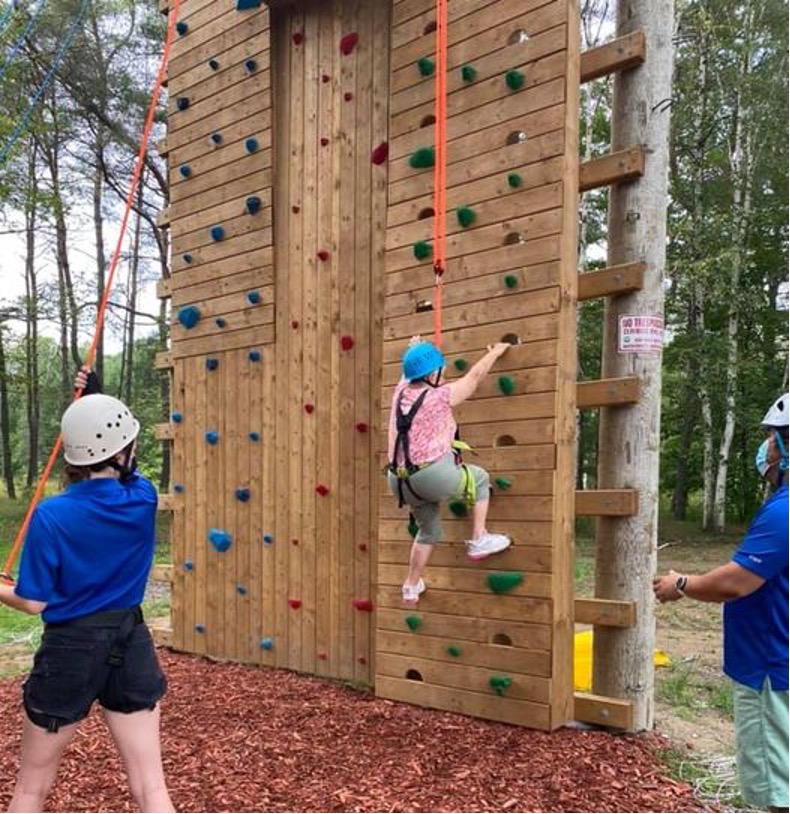 "The first morning of my Holiday Week, I went out searching for all the new additions at CNIB Lake Joe, and I came across a few staff standing around a huge board. Curiosity got the better of me, so I ventured over and asked what it was all about, and they told me it was a Climbing Tower! I couldn't resist the challenge to give it a try, even though I was a little unsure if I could do it at the age of 85. After taking their offer to help me try it safely, voila! There I was in this harness, ready to climb. Eugene helped me find hand and foot spots to start climbing, and I was surprised how safe I felt the whole way through with the staff supporting me. I really trusted in them. I didn't go too high, and at one point, I said, "I am done," and the staff helped me get down. Trying this for the first time was quite a leap of faith for me because I didn't know I could do it. And even though I thought I had finished my bucket list, now I have a new goal to try it again and go higher next time!"

Tell us your story! Did you try something new at camp? Discover a talent or passion? Launch a new career? Renew a relationship? Share your stories and photos with us and tell us why CNIB Lake Joe is special to you. Send an email with all your memories to Sherri Helsdingen at Sherri.Helsdingen@cnib.ca or call 705-241-2907.