With COVID-19 sweeping the globe, the world can be an isolating place – especially for someone in her 70s with vision loss. With the situation changing each day, and no sign of when things will improve, it's comforting to hear about the things that haven't changed.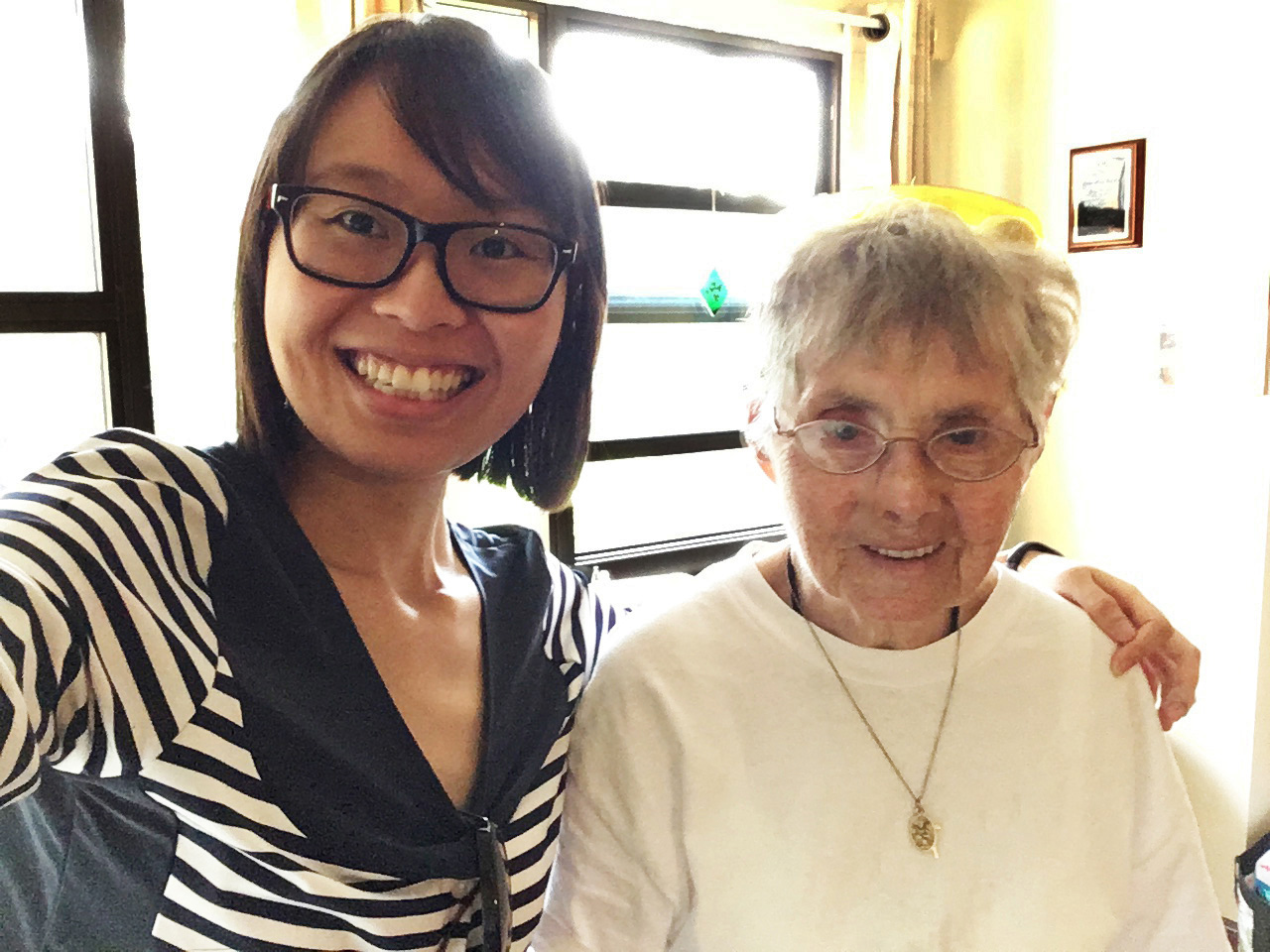 When Nova Scotia's Mary Cogswell was matched with Kristin, a medical student at Dalhousie University, there was an instant connection in 2014. Since then, Kristin has been visiting Mary every week and providing sighted assistance as part of the CNIB Foundation's Vision Mate program.
"She's very good this young girl – she knows exactly what do to," says Mary. "Before the pandemic hit, she would help me every Sunday, whether it was reading my mail or going grocery shopping."
Since the pandemic began, Mary and Kristin call each other more often during the week. Kristin calls Mary to update her with any CNIB-related news or schedule changes, and Mary gives Kristin a call to share any interesting news on her end.
Normally, around this time of year, the pair would enjoy spending an afternoon strolling along the Halifax waterfront and listening to fiddle music. While that's not possible right now, Mary has been keeping her spirits up by listening to music – tunes from The Rankin Family and Rita MacNeil are among her favourites.
"I'm not a fan of some of the noisy stuff that's out today – we'll leave that for the kids," exclaimed Mary with a laugh. "I like old time rock and roll, waltzes…all kinds of music."
Mary's advice for staying upbeat during tough times is to continue doing the things you love.
"I was talking to a friend recently and I said to them, 'You have a great sense of humour – you keep that sense of humour going'," says Mary. "I also told them, 'You love music so keep on listening to music.' Doing the things you love will help keep your spirits up during something like this."
Despite the 50-year age gap, Mary and Kristin get on like a house on fire. Pandemic or no pandemic, their friendship is here to stay.
"Mary is awesome, she's been the best part of volunteering with the Vision Mate program," explains Kristin. "She has such a great personality. It's really nice to have a friend like her."
During this unprecedented time, one of the easiest things we can do is reach out to each other to engage in friendly conversation and offer support. In response to COVID-19, the CNIB Foundation has adapted its Vision Mate program to engage volunteers to connect virtually with participants by phone or online, at least once a week. Learn more at cnib.ca/VirtualVisionMate